Follow these steps to turn on the Banner Notifications, and the App Icon badges and sounds on an Android device. Note that most Androids will not allow you to change the notifications settings until an inbound message has been received. If, your MyRepChat number has not received at least one message after install, please send a message to your MyRepChat number so the Android device allows the setting change for notifications.
For these step by step instructions, a Samsung Galaxy S9+ with Android Version 10 was used. Not all Android phones have the same options, and the verbiage for each may be slightly different. The basic step by step instructions should be universal however regardless of the Android device.
Step 1: Locate the "Settings" tab on your SmartPhone: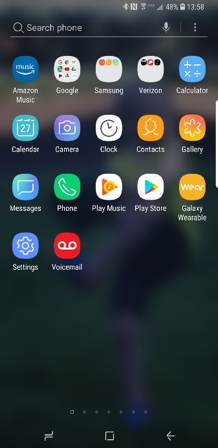 Step 2: Locate the Apps Section within Settings and from there locate the MyRepChat App (your phone will only have 1 MyRepChat App:
Step 3: Open the MyRepChat App and locate the 'Notification' Section:
Step 4: This page an be slightly deceiving since it does not appear that these tabs open up; however, the notifications tab does open up. If you have the same options as the image below, please toggle on each section and then open up the Notifications section by selecting anywhere left of the toggle.
Step 5: Set your Notification Settings based on your preference. Note that after I selected Alert, I was provided the option to modify the sound of an incoming MyRepChat alert: