Note: Some Broker Dealer/Company Groups do not allow distribution lists or set a limit on the number of people allowed per list. Check with your Group Administrator for details.
Best practice: We recommend limiting lists to 100 people or less and no more than 200 total texts per day. Otherwise, phone carriers may flag your number as spam.
Watch this short video or read the instructions below:
How to Send a message to a Distribution List
Go to Contacts and then look in the Distribution Lists box. Click on the name of the distribution list.
Click "Send Message."
Type your message in the text box and press send.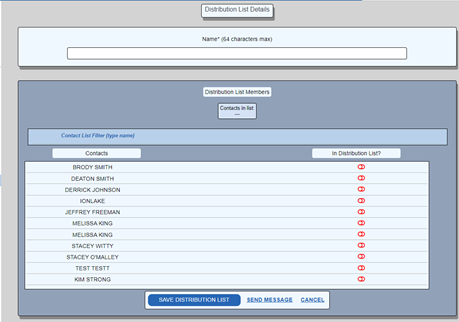 To create a distribution list:
THEN
Select Add Contact or Distribution List (found in the lower left)
The next screen select Create a new Distribution List.
When you get to the next screen you will need to create a name for you Distribution List. Click in the box to add the name of your Distribution List.
After you have named your list, you will need to select who you want in the Distribution List. You will select each person by clicking on the toggle to green.
Once the List has been completed and you have everyone selected in your list please make sure to "Save the Distribution list".