Integrating with Infusionsoft allows you to import your contacts into MyRepChat and lets MyRepChat add notes in your contacts profile within Infusionsoft.
*See CRM Integrations for generic CRM integration features and behavior.
Set up Integration:
To set up the integration, from the Dashboard, go to Settings, click on Integrations-->Connect to CRM.
From there you will look for and click on the Infusionsoft box :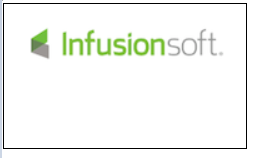 A new screen will appear after clicking the above box:
To begin the integration, click the blue 'Connect' button and you will be redirected to the Infusionsoft login page.
Log in to Infusionsoft and accept MyRepChat to be able to access your Infusionsoft data.
Choose when to send MyRepChat messages to Infusionsoft. 'Daily' will send messages overnight for the previous day in one 'conversation' per contact. 'Real Time' will send each message individually in real time.
Click 'Save'. Note: You can save settings before or after you click 'Connect' to log in.
To make sure your configuration is ready to go, click 'Test'. A black bar will appear at the bottom with a status message.
Search Behavior:
As you might expect, each CRM is different for search behavior and may have limitations. These are search behaviors specific to Infusionsoft:
Infusionsoft stores phone numbers how they are entered and does not provide a way for us to search phone numbers in a normalized way so we try several formats. If the phone numbers are not entered in Infusionsoft in one of these formats, MyRepChat will not find the contact.
We try the following formats:

xxxyyyzzzz (no punctuation)
xxx-yyy-zzzz
(xxx)yyy-zzzz

Name searches with a space will search the first name before the space and last name after the space
You can also search for only First OR Last name