The Voice Add-On feature allows you to use your MyRepChat number as the inbound and outbound number that your contacts call. You will also be able to create your own voicemail message, and set your available hours.
Note: In order to add this feature you will need to be signed on the desktop version of MyRepChat. These changes or add-ons cannot be done in the mobile app.
First, you will want to enable the Voice Add-On*. You can do this by going to the settings page on the desktop: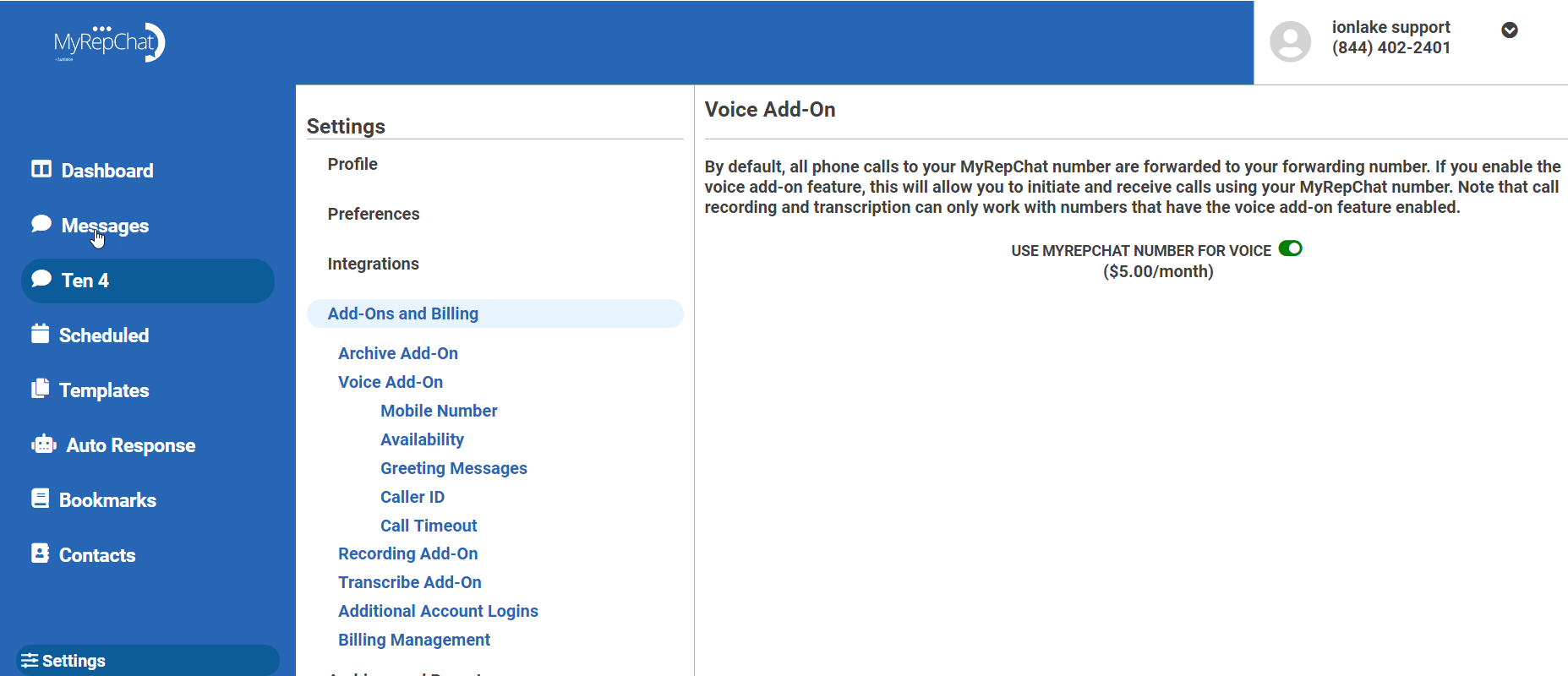 Next you will want to click on the "Add-Ons & Billing" tab. Find the Voice Add-On and click on the enable toggle so that it is right and filled in green.
*Add-On's may or may not be available to you depending on your group affiliation. If you would like to use any of the add-on's, but do not see them in this section please contact your group administrator to request the add-on. In addition, Add-On(s) may or may not come at an additional cost. In some cases your group may cover the cost for one or more add-ons or they may have you be responsible for them.
Setting up your greeting messages and voice availability:
1. Add billing details
Some add-ons will be paid for and covered by the group, and some will not. Turning on an Add-on that is not paid for by the group can put the account in an 'unpaid' status. To resolve this, go to 'Add-Ons and Billing' then 'Billing Management' and add a credit card.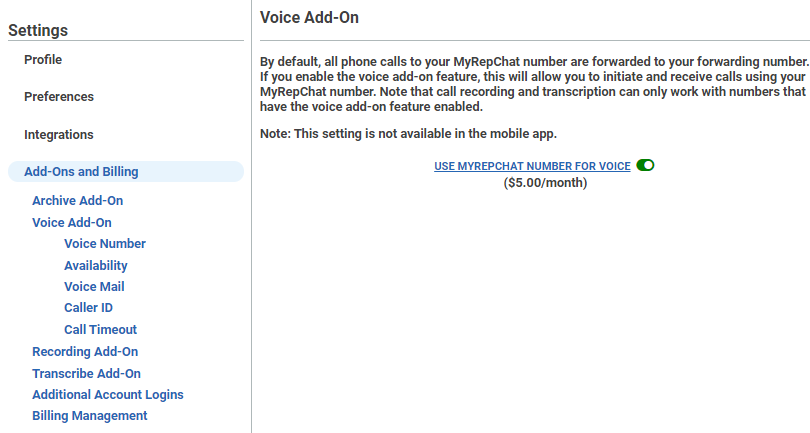 2. Mobile Number is your Voice Forward Number
Click on Mobile Number and enter the phone number you want to attach. When you place an outbound call, MyRepChat will call this number (whatever phone is closest to you, usually a mobile phone) to place the call. It will first ring this number for you to answer, then it will place the outbound call for the conversation with the client.
3. Availability
If you want phone calls from your clients to always be routed to your mobile phone, then you can just leave "Use Voice Availability" turned off. However, if you want to limit when phone calls from your clients are routed to your mobile phone, then you can turn on "Use Voice Availability" and configure the days/times you want to be available:
For the times that you are not available, your unavailable message with play and the caller will be able to record a message (set up is under 'Voicemail').
4. Greeting Messages:
If a call comes into MyRepChat and you are not able to answer the call, it's best to silence rather than decline the call. If a call comes in, and you choose to 'decline' the call, the phone will route the call to the voicemail on your voice forward number (i.e. cell phone) rather than MyRepChat voicemail greeting. Below is a screenshot of the page to create your voicemail greeting, and here is a link to an article on creating the greeting.
5. Caller ID:
Set this toggle over to green if you want the caller's number to display for an incoming call. Set it to red to display your MyRepChat phone number instead of the caller ID details - this feature is used so that you know it is a business call.
6. Call Timeout:
We recommend doing test calls to your MyRepChat phone number so that you know which voicemail is picking up the call.
This setting is 15 seconds by default so that the voicemail on MyRepChat picks up before the voicemail from the phone device carrier.
Timing for sending calls to voicemail is different for each carrier - the 15 seconds time out is intended to time out and go to voicemail before the mobile phone carrier on the device times out (usually around 20 - 30 seconds). If clients calling your MyRepChat phone number are intended to go to the voicemail on the phone device instead of MyRepChat, this setting may need to be increased to 40 seconds.
7. Reject/Ignore Phone Call
You may not be able to answer every call that comes to you. In order to make sure that the voicemail is sent to the MyRepChat voicemail, you will need to silence the call. If you decline the call then the voicemail will go to your forwarding number. (Personal Cell or office line voicemail)