Follow these steps to turn on the Banner Notifications, and the App Icon badges and sounds on an iPhone (iOS device).
On your iOS device you will want to go to your phones settings
:
Once you are in settings, scroll down to the last section that lists all of the apps on your iPhone. Find MyRepChat and select it:
You will now be shown a menu of manageable settings. Select "Notifications":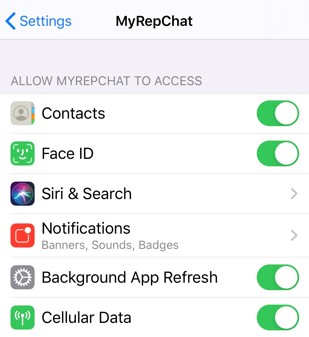 You will now be shown all of the options for Notifications on your iOS device. All changes you make should be saved automatically by your iPhone.
Once these settings are confirmed in the app, test the notifications: log out of the MyRepChat app and log in again, and send yourself a test text message or do a mobile push test.
To do a mobile push test, log into the desktop UI - go to 'Support and Training' on the bottom left, then 'Notifications' and 'Mobile Notification'. In this screen, confirm it is checked green for 'Set to iPhone' and click the 'Mobile Push Test'. This will generate a notification, but not an actual text message.