Add-ons are optional features that you can add to your MyRepChat account. If you are a part of a group that uses MyRepChat, some Add-Ons might be included as part of your subscription. Contact your group administrator to find out more or to request an add-on be made a part of your group.
Add-on settings can be found in Settings-->Add-Ons and Billing.
Voice - If you would like to use your MyRepChat number for voice calls as well as text messaging, you can enable the Voice add-on. This will create a virtual business number so that your clients will only see the MyRepChat number when communicating with you.
Recording (only available if voice is enabled) - MyRepChat can create recordings of your phone calls that use your MyRepChat number. Recordings will be archived with your archive provider. If you have an integrated CRM provider that supports audio files in notes, the recordings will be sent as a note for the CRM as well.
Transcription (available if voice and recording are enabled) - MyRepChat will create transcripts of your voice recordings. Transcripts will be archived with your archive provider, and if you have a connection set up with a partner CRM provider, the transcript will be added as a note to the CRM as well.

Logins - Your MyRepChat subscription includes two log-ins (one for you and one for an assistant/junior advisor). To add users, go to Settings > Add Ons and Billing > Additional Account Logins.
Click the +Create Login button, provide a name and an email address, and click Save. Add-Ons can be removed at any time by clicking the Delete button.
Archiving - If you do not have an archive provider setup and you would like to have your MyRepChat communications archived, you can do so by enabling the Archive Add-on. This will cause all your MyRepChat data to be archived in a way that will meet your industry requirements for data retention.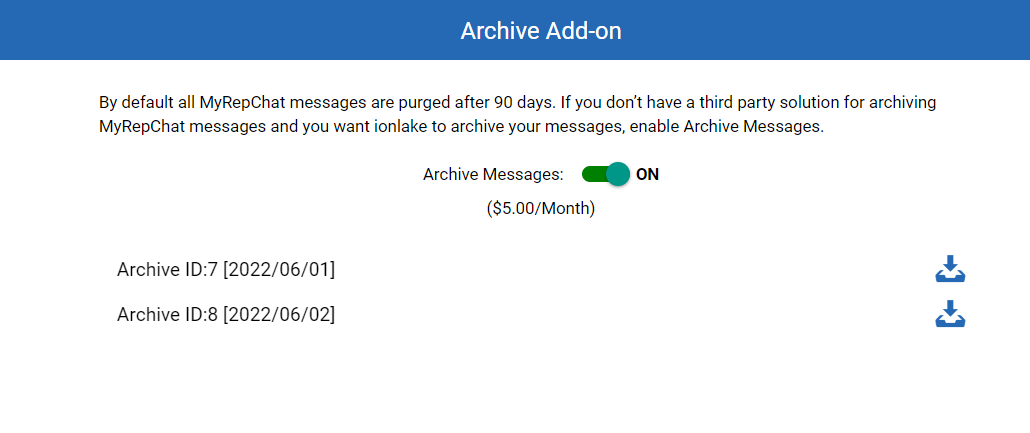 *If you are a part of a group your group administrator may have group Add-Ons already established for you as a part of the group so any additional fees for Add-Ons may not apply to you. Contact your group admin with any additional fee questions.
**If you do not already have a credit card setup in the Billing Management section for MyRepChat, you may need to setup a credit card to pay for your Add-Ons.