Integrating with Less Annoying CRM allows you to import your contacts into MyRepChat and allows MyRepChat to document SMS/Text messages as notes into Less Annoying CRM under your customers' profiles.
*See CRM Integrations for generic CRM integration features and behavior.
Set up Integration:
To set up the integration, from the Dashboard, go to Settings-->Integrations-->Connect to CRM.
Scroll down to click on the LessAnnoying CRM box:
You will see a secondary section appear with instructions on setting up your LessAnnoying CRM integration: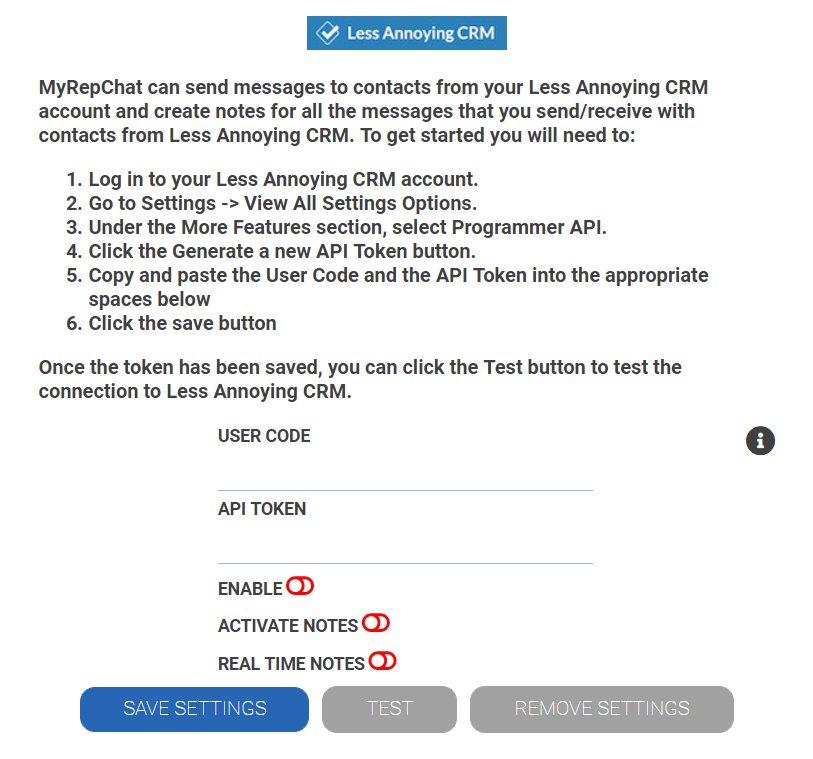 Click 'Activate Notes' if you would like all SMS/Text messages to contacts imported from LessAnnoying CRM to be automatically added to LessAnnoying CRM as comments to your contacts.
Once you enter the integration information and click 'Save'.
Search Behavior:
As you might expect, each CRM is different for search behavior and may have limitations. This is the behavior specific to Less Annoying:
Uses 'google-style' searches that match several fields including first name, last name, email, and phone number.
All searches are 'contains' and single-field searches so do not enter a space when searching for a name - either search for first or last name.
A Search by group requires an exact match of the group name. We will only create a group if there is at least one member of the group.