Make sure your CRM is integrated with MyRepChat and that you are signed in to your CRM.
1. Go to 'Contacts' from the Dashboard.
2. At bottom, click on 'Add Contact or Distribution List":
3. Click on 'Add a contact or Distribution List from a CRM:
4. In the 'Contact or Distribution List' field, type in the contact or distribution list name. Click 'Begin Search':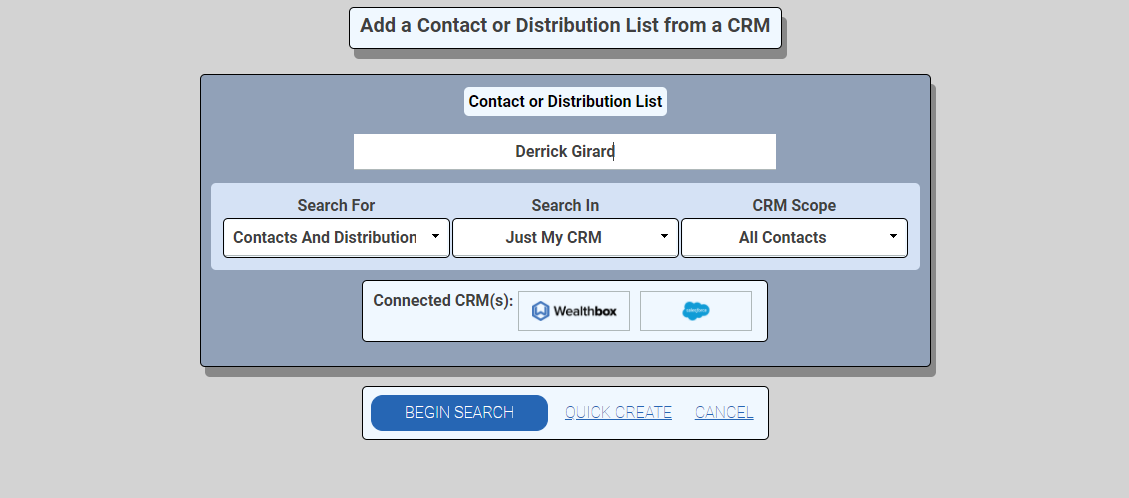 5. When the contact pulls up, click on it, next you will see the conversation screen where you type your message:
Make sure any contacts you text have your CRM logo:
Common CRM behaviors:
1. If you're having an issue integrating, and are using a free CRM version, chances are it will not integrate with MyRepChat. That is intentional by the CRM company, not us.
2. The cleaner your CRM, the better MyRepChat will integrate. I.e. names should be in name columns, etc. MyRepChat can only pull over what you have created the way you created it.
3. MyRepChat doesn't "feed" your CRM, we "talk" to it. It is better to clean up your client list, create groups/tags, and build your client info in your CRM first, THEN after integrating with MyRepChat you can pull contacts over to text.
4. Redtail won't feed us groups/tags with more than 50 contacts, so if you use Redtail and wish to pull over client groups to MyRepChat, make sure they contain 50 contacts per group or less.
5. Try staying logged in to your CRM if you are having any issues integrating with MyRepChat.
6. If you create a contact manually in MyRepChat AND pull that same contact over from your CRM, that's how duplicates occur.