MyRepChat offers the following integration features with CRMs:
Bulk Contact Import
Free-form search and auto import from web app
Free-form search and auto import from mobile app
Phone number search for incoming phone numbers
Adding Contact notes
Group-based Import
Different CRMs may have different capabilities in terms of search and import and configuration requirements. See the CRM specific articles for CRM specific configuration and 'gotchas'. 
Once a CRM is configured or 'linked' to MyRepChat, we will use those integrations to search, import, and apply notes. Each CRM integration is configured under 'Contacts' and the integration can be reset and tested to make sure they are configured correctly. If you have more than one integration, we will use all integrations configured to search. If you've switched CRMs, feel free to delete the old one. Those contacts will still exist but the CRM will no longer be searched for new ones.
Features
Bulk Contact Imports
Bulk Contact Import is for users who want to import a large number of contacts all at once upfront. 
Since this feature requires we show you all contacts, we've limited the number of results that we will bring back and attempt to show you. We do this due to the impact on the CRM API and the impact on your browser and user experience. Each CRM has a max # of contacts we'll show you at once. Most CRMs have a limit of 10K contacts. We set this limit as we feel that is the most you'd be willing to wait to retrieve and the most data your browser would be able to handle efficiently without severe performance degradation. If you have more contacts than the limit, we recommend you use the on-demand search capabilities. Some CRMs have a smaller limit when the CRM itself has performance/data limitations. Some are 1K () and one CRM (RedTail) is as low as 20. For these we recommend always using on-demand and for RedTail we require (we no longer offer Bulk Contact Import for the RedTail CRM).
Free-Form Search (Web App)
In the Messaging area, under 'Compose Message' you can search for individuals by name or by phone number. You can choose to search internally only (Contacts already imported), CRM only, or both. Any search results that are not already in MyRepChat will be automatically imported. Click the magnifying glass button to execute the search (we do not filter as you type in this field since we have to go out and get the data from CRMs). The 'Filter Groups and Individuals' field will filter the current results further and that will filter as you type.
We currently look in the CRM for Names and Phone Numbers. When possible we search for BOTH first and last names and ALL phone number fields that contain what you type. However, different CRMs have different search capabilities. Please look up your CRM for search 'gotchas' in Why am I not seeing my contacts?. Be aware of the search limitations of your CRM and search accordingly for best results. In general, best practice is to be as specific as possible to return the fewest results so you're not pulling in contacts you don't want. We don't currently separate first/last name if a space is included before handing the search to the CRM. So unless they CRM search behavior has a single 'Name' field or the CRM handles it some other way (See your CRM integration page), enter only a first or last name and not both.
Free-Form Search (Mobile App)
Similar to the MyRepChat web application, you can search contacts that are both already imported contacts in MyRepChat and those contacts that are in a connected CRM. Same caveat with search rules apply. Type in a name or number and click the magnifying glass to search. Modify the 'spinner' to specify where to search if you want to narrow down where to look.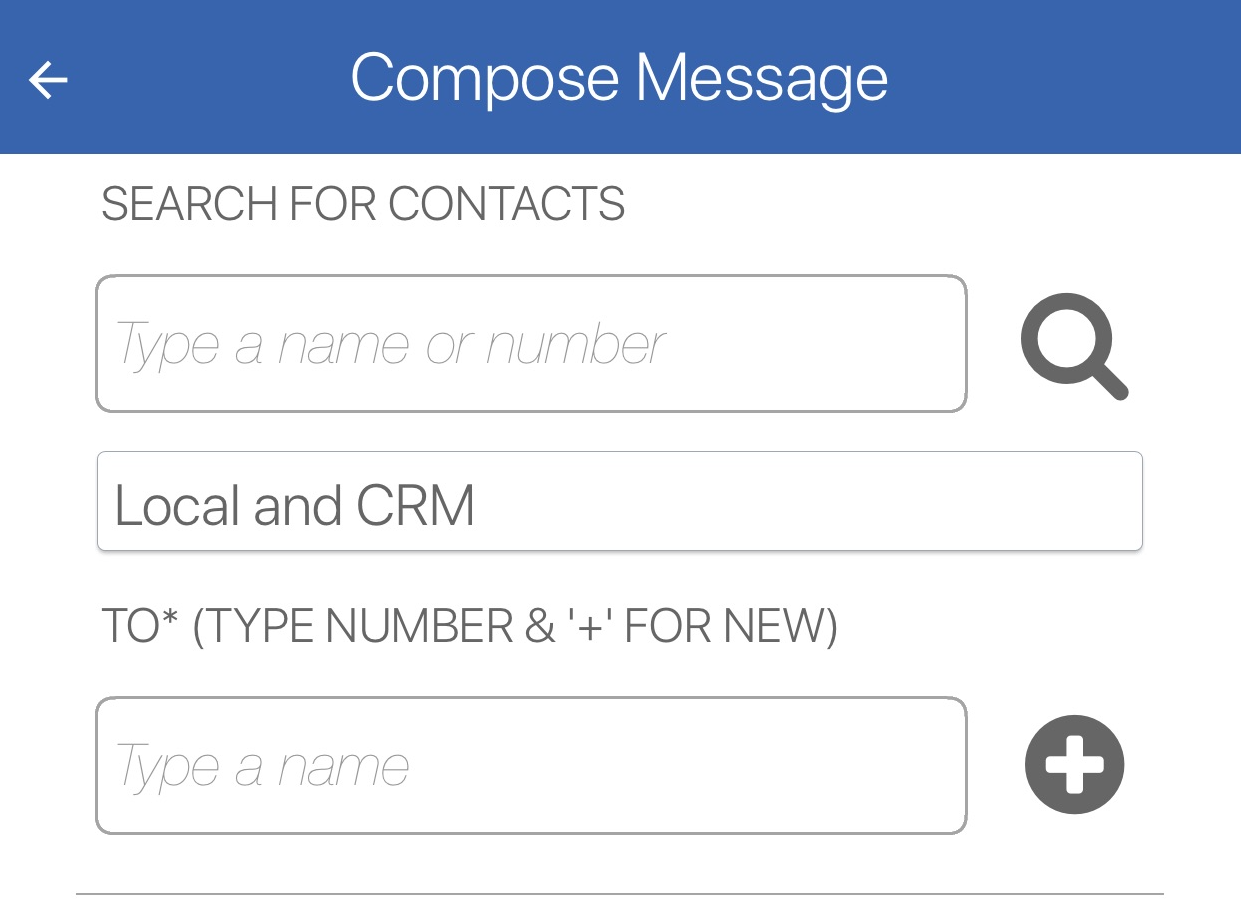 Phone Number Search for Incoming Messages/Calls
There may be occasions when you receive an incoming message or call from a phone number that is from someone that is not a currently imported MyRepChat contact. If we cannot find the contact internally, we will search for the phone number in your CRM and automatically import the contact.
As I mentioned earlier, different CRMs have different search capabilities. We do our best to find phone numbers given the CRM API. In general, we recommend you update your CRM data so it has the mobile phones in mobile phone fields. Once again, refer to the Why am I not seeing my contacts? article for any 'gotchas' for your CRM related to phone number searching.
If we can't find the contact by phone number, we will add an 'Auto Generated' contact with the phone number as the name. If you know there is a contact with that phone number, check the 'gotchas' page on why we may not be able to find it in your CRM.  If you are getting 'Auto Generated' contacts created and the 'gotchas' don't explain it, let us know.
Adding Contact Notes
All but one CRM (Office365) has the capability to send notes back to associate SMS messages with the contact. We currently do not add notes for MMS (media) messages with CRMs (only 'Archive' solutions). This is because most CRMs do not support non-text related notes.
Each CRM configuration has a toggle to 'Activate Notes'. Make sure both 'Real Time Notes' and 'Activate Notes' is turned on to get real time notes sent to your CRM.
Notes are only sent for contacts that are imported into MyRepChat and that contact is linked to the CRM. You can make sure your contacts are 'linked' to a CRM by looking for the CRM logo in your contact list. Any contacts that were created manually or when a contact was 'Auto Generated' do not receive notes. 
Group-based Import
Some CRMs have capabilities to organize your contacts. We currently offer group-based importing on only one CRM (SmartOffice). As part of the Group import, we will generate a 'Group' and add/remove contacts associated with that group so you can message the whole group. The group/contact association is only synched when you explicitly import that group. Contacts that are removed from the Group in the CRM and that group is imported into MyRepChat again, the contacts will still be in MyRepChat, but the group/contact association will be updated so a group message will not include them. Likewise, any new contacts associated with the group will be imported the next time the group is imported.
If your CRMs has a similar 'group level' concept and you want similar functionality, let us know. We have both LessAnnoying and Redtail on our roadmap by request, however, due to the way Redtail operates, we may have to limit groups to 20 contacts. We only implemented this functionality in SmartOffice because it was requested.
Imported Data
We attempt to import the following contact data. If what we get is larger than what we can store, we will truncate that data to fit. If you find you're missing valuable data due to this truncation, let us know.
The Contact data we import and the size of the fields are below:
| | |
| --- | --- |
| Data | Size (# of characters) |
| First Name | 64 |
| Last Name | 64 |
| Address | 128 |
| City | 64 |
| State | 32 |
| Zip | 16 |
| Email Address | 128 |
| Phone (includes area code) | 24 |
We also validate and normalize all phone numbers.  Since we don't know which will be used for messaging, we need them in a consistent format. Your phone numbers may not appear exactly how they look in your CRM. We remove any punctuation and we pull out the country code. If it's not a country code we support, we discard the phone number.